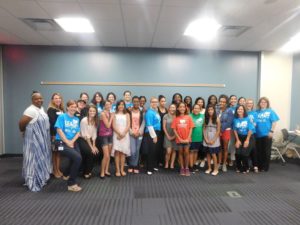 On Friday, July 15, committed volunteers from Aaron's Women's Leadership Network came out to our Malon D. Mimms Club for the "Lead like a Girl" event. The event is part of a larger campaign by the organization to empower young girls and teach them about character and leadership.
During the day, 15 girls participated in the program and learned about career aspirations, opportunities in the workplace, and how to prepare for their first interview.  Top executives also spoke about image and presentation and gave girls tips on professional appearance and speaking with confidence.
We would like to thank the inspirational women of Aaron's Women's Leadership Network! It's volunteers like you that show our girls their passions and career aspirations are within reach.