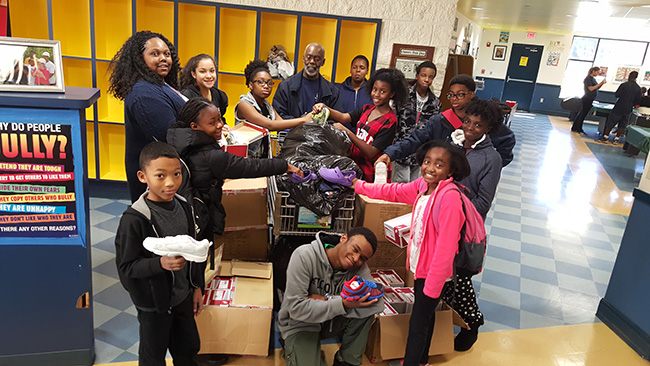 They say actions speak louder than words.  And because of your support, when it comes to character and leadership, we're proud to report our kids can be heard for miles. This fall, the kids at Lawrenceville Boys & Girls Club are preparing for another year to collect and ship shoes to thousands of less fortunate youth in West Africa. Their spirit of service is extending far beyond metro Atlanta and touching their peers across the world.
The effort kicks off just in time for the holidays. Kids start bringing in gently worn shoes as early as September, and encourage their classmates, friends, and relatives to pitch in as well. And this year, they are aiming big! The Lawrenceville Club wants to collect more than 50,000 pairs of shoes to help impoverished kids in Ghana.
Karissa J., 14, is excited to be a part of the effort.
"I hope we can make a difference," she said.
Projects like this show the kids at our Clubs – many of whom face steep hurdles themselves – that even though they face their own challenges, they can give back to others and drive positive change in the world.
The idea to collect shoes was sparked by a Club teen who wanted to give away a pair of her own shoes to another kid at her Club.
Assane Beye, Character and Leadership Director at Lawrenceville Club, said the girl's generosity compelled other Club members to hold a holiday shoe drive.
"I tell the kids that character and leadership is about the extra mile you're willing to go to help someone else," Beye said. "We're so grateful to Gwinnett Rotary Club and Pastor Kumi for partnering with us to collect all of these shoes for the children."
Martin Kumi, the man at the helm of the project, believes their goal is ambitious but doable.
He started The Soul Project in 2007. The Ghana native recalled plenty of days when he had to borrow shoes from his friend because he didn't have a pair of his own. Even today, Kumi says many shoeless children in his hometown have to walk up to 10 miles a day to school.
"Shoes are a rarity for many people. Cuts and burns to the feet can become infected and sometimes lead to amputations," Kumi said.
Alexis T., a 14-year-old aspiring math teacher at the Club, believes providing shoes to the kids will not only increase their comfort, but build their confidence.
"Hopefully they'll gain it after they get the shoes," Taylor said.
Johnny L., another Club teen, encourages other people to give back in some form – not just around the holidays, but throughout the year.
He's looking forward to seeing photos of the kids' reaction to receiving the shoes.
"I can't wait to see how these shoes will help them see that there is more to aspire for in life. They can smile back at us by doing something great with their lives.
Building character and leadership is a central focus at Boys & Girls Clubs of Metro Atlanta. Given the right tools, resources, and encouragement, we believe the kids in our Clubs can change the world. Find out how you can help give youth a voice! Mentor a kid or make a donation. 
GET INVOLVED
DONATE NOW