Lawrenceville Teen Honored for Leadership in School, Club, and Community
November 13, 2015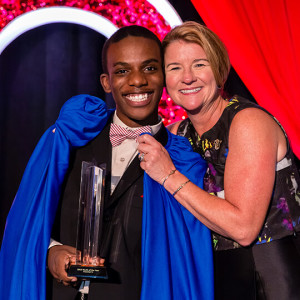 ATLANTA – November 13, 2015 – Boys & Girls Clubs of Metro Atlanta (BGCMA) is honored to announce the winner of its 2015/2016 Youth of the Year award – Brian Ball of Lawrenceville Boys & Girls Club. The prestigious Youth of the Year award is BGCMA's highest honor, recognizing teens from Clubs in the metro Atlanta area who are working hard, investing in themselves, and demonstrating leadership in their schools, Clubs, and communities.
On November 12, BGCMA welcomed 16 Youth of the Year nominees and more than 700 attendees, including community leaders, supporters, staff, and family, to the signature Youth of the Year awards ceremony at the InterContinental Buckhead Atlanta.  Attendees heard speeches about where these young leaders started, how their Clubs helped shape who they are today, and what big dreams they have for the future.
"I'm so proud of our Youth of the Year candidates," said Missy Dugan, president & CEO of Boys & Girls Clubs of Metro Atlanta. "Our Clubs work to show kids that – even though they are young – they have a voice and can help drive positive change. It's amazing to see all the ways these young leaders are giving back and making the world a better place."
Research shows that building character and leadership skills early on can have a lasting impact on children's lives for years to come. According to Youth.gov, children participating in high-quality service-learning experiences that are meaningful, provide time for reflection, and last for an extended period of time have been shown to make academic gains, including gains on standardized tests. In addition, these children have shown increased engagement and motivation.
"Thank you to all of our partners who make these programs possible," said Dugan. "Through our shared vision, we are building an educated workforce, a healthy and active community, and a city full of young leaders like Brian."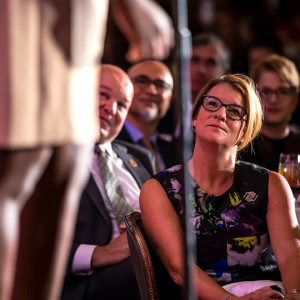 As Youth of the Year, Brian was awarded a $2,500 college scholarship, and in the spring of 2016, he will represent Metro Atlanta as Youth of the Year at the statewide competition.
"My Boys & Girls Club has done so much for me and I am honored to represent the organization," said Brian Ball. "I believe my purpose in life is to connect, inspire, and awaken my generation to the world around us. If we build each other up, we will all reach new heights."  Read more about Brian's story and his journey toward a great future!
In addition to the prestigious Youth of the Year award, BGCMA also awarded top honors to the following teen candidates during the event:
Pherow Drain, Douglas County Boys & Girls Club, first runner-up and recipient of a $1,500 scholarship
Erika Simmons, Jesse Draper Boys & Girls Club, winner of the Ada Lee Correll Community Service Award and recipient of a $1,000 scholarship
BGCMA serves more than 3,500 kids and teens each year. The Youth of the Year competition is part of a broader year-round program that helps youth develop character and leadership skills. BGCMA also focuses on helping youth succeed in school and live healthy. By 2020, the organization is working to ensure that 90 percent of the youth it serves are graduating on time, living healthy, and giving back.
BGCMA thanks all of its corporate and individual sponsors for opening doors for our youth. To find out more about this year's Youth of the Year event, visit www.bgcma.org/youthoftheyear2015.
For more information on how you can become involved in shaping great futures, visit www.bgcma.org/get_involved.
About Boys & Girls Clubs of Metro Atlanta
Boys & Girls Clubs of Metro Atlanta's mission is to save and change the lives of children and teens, especially those who need us most, by providing a safe, positive and engaging environment and programs that prepare and inspire them to achieve Great Futures. Through 26 Clubs in 10 metro counties, trained and professional staff serve more than 3,500 youth (ages 6-18) daily through programs that foster academic success, healthy lifestyles and character and leadership development. BGCMA also oversees Camp Kiwanis, a 160-acre outdoor residence camp. While the cost to effectively serve those who need us most is more than $5,000 per member, BGCMA asks families to pay only a $50 annual membership fee and no child is turned away due to inability to pay. For more information, please visit www.bgcma.org.
Media Contact:
Adrienne Leon
Marketing Specialist
Boys & Girls Clubs of Metro Atlanta
404-527-0948 extension 1047  aleon@bgcma.org