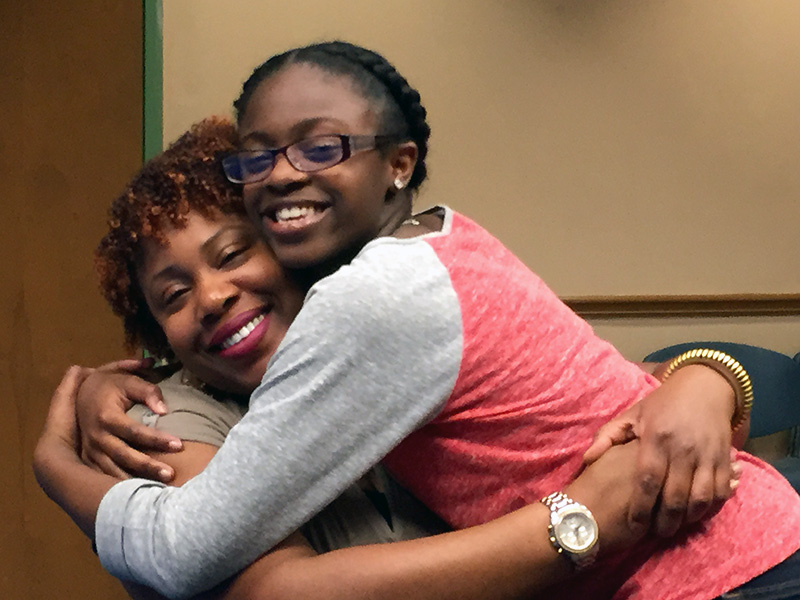 A + for Mahogany: New program gives teen edge to succeed in school and beyond
Mahogany L. is excited about starting high school next year. The precocious 13-year-old knows big responsibility comes with 9th grade, including more classwork and homework, but she's ready.  She has the edge she needs to succeed in high school, and even college.
She attributes her confidence to Early Edge, a supplemental academic preparation program offered at her A. Worley Brown Boys & Girls Club.  Boys & Girls Clubs of Metro Atlanta teamed up with The Princeton Review to offer the 16-week program for 7th and 8th graders. It provides 48 hours of classroom instruction focused on building foundational skills in math and language arts.
Kendre Tripp, Mahogany's mother, called Early Edge the best investment she could make for her daughter. Tripp said her daughter was once a straight-A student, but her grades dropped significantly when she transitioned from 5th to 6th grade.
"She had struggles, specifically in math and reading. It really scared me," Tripp said. "I did everything I could to try to get her the help she needed."
Then one day, while picking up Mahogany and her brother, Isaiah, from the Club, Tripp saw a flier about Early Edge. She said it was the answer she had been praying for.
"I saw the flier and quickly signed her up," Tripp said. "In my heart I knew it was a good opportunity for her. I wasn't sure about how well she'd do and what it would do for her, but I saw Princeton attached to it, so I knew it was a promising opportunity."
What makes Early Edge unique is that it includes a commitment from parents, too. That agreement includes a promise from parents to attend five workshops. The workshops are designed to equip them with the tools they need to support and encourage their students in their academic journey. With Mahogany's hard work and the support of her mother, she has exceeded expectations!
"Out of all the Early Edge participants at all four (BGCMA) sites, Mahogany showed the greatest gains academically overall," said Morgan Havig, associate director of family resources at BGCMA.
In English, Mahogany scored 25 points higher on her post-test than in her pre-test, earning a 4 on a scale of 1 to 5. Having said a 4 means that Mahogany understands the material and just needs to focus on mastering the concepts.
Mahogany also saw improvements in her math score. She scored three points higher on her post-test. Her overall level in math is also a 4 on a scale of 1 to 5.
"(My instructor) Ms. Danielle taught in a fun, simple way for me to understand problem-solving in math," Mahogany said. "I feel better because of Early Edge. It built my confidence. I felt more comfortable asking questions and Ms. Danielle let us be more hands on, like in our creative writing assignments. We got to do things that we didn't have a chance to do in school."
Ashley Washington, director of Academic Success at BGCMA, is proud that the organization's first Early Edge cohort has ended with a success story to share. But academic preparation doesn't stop here.
"Follow-up support for members of the Princeton Review Early Edge program will be delivered in the form of a partnership with tutor.com., which provides interactive, personalized tutoring sessions focusing on  improving grades, increasing confidence and correct completion of homework assignments," Washington said. "Pilot members will be given their own tutor.com account for academic support in 25 subject areas."
In addition to this service, Washington said focus on increased 'tween' programming and improving the quality of the Club experience overall will support social and emotional skill-building which is linked to academic improvement.
Mahogany, an aspiring doctor, vows to keep up the good work. After high school, she plans to attend Auburn University or the University of Georgia.
"I'm really proud of myself," said Mahogany. "Some days I didn't think I was going to do so well. But next year, I'll definitely apply the strategies from Early Edge, so I can accomplish my goals."
Learn more about how your support is helping us prepare youth for academic success. We appreciate your efforts!